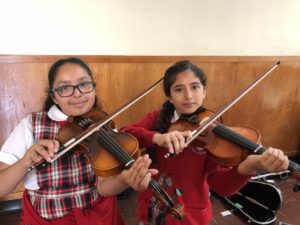 Music and art are alive at Sacred Heart Elementary School, where education isn't just about feeding the brain –– it's also about feeding the heart and soul. The students enjoyed expressing themselves this year through instrumental music, singing, art, dance and theater, all of which are important aspects of a well-rounded curriculum and help to develop the whole child.
Several  programs this spring showcased their accomplishments, including:
• Instrumental concert as part of the Young Musicians Foundation program with participation by local Chamber members,
• Transitional kindergarten through 3rd grade concert,
• Recital of songs from The Sound of Music,
• Theater performance of The Wizard of Oz for parents and families as well as a performance at the local Lincoln High School and
• First Annual Art Walk and fundraiser, which showcased art projects for viewing and for sale from all grades.