Please join us for our live-streamed event as we celebrate
25 years of Vision of Hope!
We will honor our founders and hear from our Principals, Alumni, Students, Families and members of our Vision of Hope and Dominican Sisters of Mission San Jose communities.
Tuesday, October 27, 2020 • 5:00 – 6:00 pm
Click HERE to register with your name and email.
Click HERE to make an anniversary gift.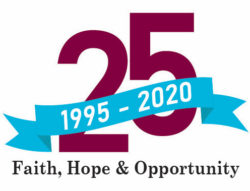 Dominican Sisters Vision of Hope   |   1555 34th Avenue, Oakland, CA 94601   |   Phone: 510-533-5768   |   Fax: 510-533-2365  
Dominican Sisters Vision of Hope is a 501(c)(3) non-profit organization. Our EIN number is 94-3356021, and our tax-exempt status is granted under a group exemption with the U.S. Catholic Conference of Bishops.