Hope and Opportunity through Catholic Education
St. Anthony-Immaculate Conception School hosted a First Lego League Qualifying Tournament, Mission: Track Trek 2015, on Saturday, Nov. 21.
Fifteen Bay Area teams competed in the robotics event, including teams from SAIC and Saint James School. Albert Bricker, technology coordinator for both schools, was the tournament director, and dozens of parents served as volunteer judges and workers.
Children from 80 countries are participating in the 2015 Trash Trek Challenge. Students, ages 9-14, design, build and program Lego robots to solve the problem of trash collection, sorting, composting, recycling.
"Teams are judged on their projects, robotics and how well they demonstrate the First Lego League (FLL) core values, which include cooperation, discovery and the spirit of friendly competition," Bricker said.
Winners of this qualifying tournament advance to a regional championship. The season ends with the FLL World Festival in April in St. Louis. Although the Vision of Hope school teams did not advance, "Our teams performed extremely well as rookies," Bricker said. "In meeting this educational challenge, all kids are winners."
Inspiring Faith and Hope in Our Catholic Schools
Welcome to Vision of Hope, which for 20 years has provided financial support for eight inner-city schools sponsored by the Dominican Sisters of Mission San Jose. These schools serve more than 1,800 students in Los Angeles and the San Francisco Bay Area.
Our mission is to ensure the quality, affordability and vibrant future of the schools, the children and the communities they serve.
Sister John Martin Fixa, Vision of Hope Executive Director for 20 years and now Director Emerita, was selected by the St. Vincent de Paul Society of San Francisco to receive the 2015 Frank Brennan Award, which recognizes individuals whose personal actions have had an extraordinary impact on the needy of San Francisco.
Hundreds of friends and donors honored "Sister Johnnie" at the Society's annual Award Dinner on Oct. 28 at the Westin St. Francis on Union Square.
She was featured in a recent of issue of Catholic San Francisco.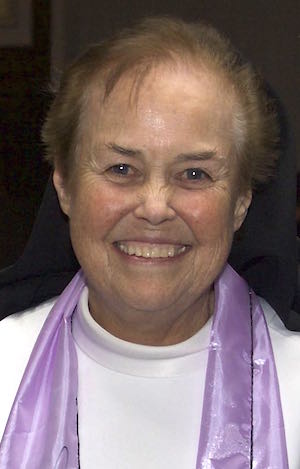 Enrollment Beginning 2015-2016
2015 Graduates Accepted by Catholic High Schools
Students from Single Parent Households
% Receiving Tuition Assistance
Vision of Hope Schools
Click on logos to reach each school's website
   St. Michael's in Los Angeles welcomed 300 students back to school in August. During the summer we purchased and formatted new computers, so each classroom now has in-class devices. Grades 1-8 received new Chromebooks, and transitional kindergarten and kindergarten are using iPads. Students kicked off the new school year taking the STAR test on these devices. Many thanks to all the donors who helped St. Michael's School update technology for the benefit of the children. We believe that technology will engage students more deeply, and that the new blended learning programs will help to differentiate student learning and improve academic... read more
When I was young and attended Saint James, it was a place of peace and nourishment for me, so I am sending you a small donation to help you carry out this Saint James tradition. I know you will use these funds to carry out the spirit of the school and help some needy children.
Frank Rodezno
Cabrini was definitely my home away from home. It has played a tremendous role in the woman I am today. My teachers always pushed me to be all that I was able to be.
Monet Walker
I am grateful for the education that my children earned here. I have many fond memories of the children I taught, and every so often I see one of them who reminds me of a special event. All these memories I will forever cherish.
Marie Roque