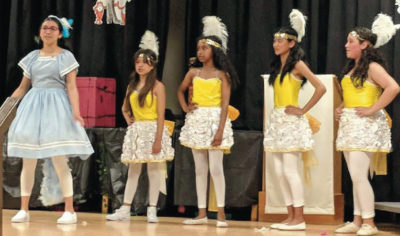 St. James' award-worthy production Seussical, the Musical dazzled audiences as the 5th through 8th grade acting troupe led the audience through an imaginative and fantastical mash-up featuring beloved Dr. Seuss characters: the Cat-in-the-Hat, Horton the Elephant, even the Grinch!
Under the talented guidance of music director, Mr. Jean-Paul Jones, with the support of teachers, Ms. Vantrease and Ms. Caputo, the dedicated cast embraced their roles with the enthusiasm and panache required to bring the whimsical, colorful world of Seussical to life.
The incredibly supportive St. James community of parents and teachers collaborated to source and create costumes, props and set designs. Stage crew was staffed by 8th graders who learned behind-the-scenes technical crafts of make-up, lights, sound and more.
Debut performances for the entire cast meant, naturally, a few awkward silences and forgotten lines on opening night, but these miscues only added to the authentic beauty of the event. One nervous cast member even considered quitting, but through the support and guidance of family and teachers, she found the faith and courage to sing her way through a show-stopping performance! As Ms. Vantrease observed, "Our students learned to improvise and persevere through those challenges, and we are so proud of the final result."